The
Zoku
Fish Pop Mold has 6 "fish" to fill your juice in and make ice pops. The 6 molds are a Diver, Whale, Octopus, Clown Fish (or as kids know it Nemo) Shark, and Jelly Fish (might be a puffer?) all these fun characters are about 4 inches deep and 2 inches wide which make for a nice ice pop.
Although its only 6 settings it works that's one for each kid and I get to enjoy one also : ) We have done a few favorites like coffee, sweet tea, lemonade. The kids enjoy the
Zoku Fish Pop Molds
whats really fun is the sticks which are placed in the ice pop have the proper legs but we like to just stick them on so when we go to pull out the frozen pop it is a new creature like a diver with octopus legs. I also love that the Zoku is a rubber like mold so removing the ice pops from tray is simple, no more taking out a knife to hit the bottom or separate from the sides.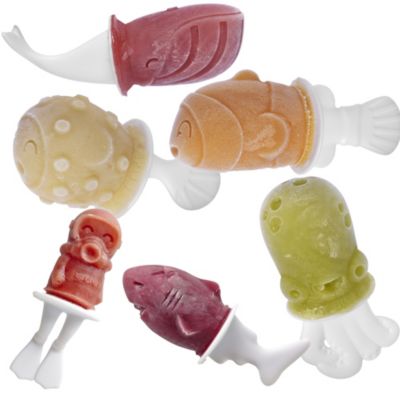 The Zoku Fish Pop mold is about the size of a 8oz 6 pack of soda, so it doesn't take up much space in the freezer and it is sturdy so it won't spill. You can purchase a Zoku Fish Pop mold by clicking
here
. While purchasing your Fish Pop Mold check out all the other great products from Zoku
here
.
Disclosure: I received one or more of the products mentioned in this post to help facilitate my review. All opinions are mine and I was not influenced in any way. Please contact Paige@7kidsandus.com with any questions.