I have talked before about how much Riley loves his name. You know how when you have a child, and their name just fits them? This is Riley. He is 100% a Riley.
He loves his name so much, that whenever he sees personalized products he is always excited to find his name.
The Perfect Name for You
is a personalized storybook filled with adorable animals that celebrate your child's birth by spelling the perfect name letter by letter. Each animal brings a letter for a favorite thing - The elephant brings a
T
for
trunk
, the chipmunk brings an
N
for
nuts
, and the puppies bring a
Y
for
yard
- until your child's full name is spelled and declared "
The Perfect Name for You!
"
Your child's book includes…
A personalized dust jacket
Your choice of animal for each letter
Your child's birth date as part of the story
Your child's first, middle, and last names
A personalized dedication especially from you
Your child's photo on the title page (+$3.00)
An animal alphabet from A to Z
A spunky little ladybug hiding in every picture
| | |
| --- | --- |
| Awards: | Creative Child Magazine 2012 Product of the Year Award |
| | Mom's Best Literary Gold Award |
| | Mom's Choice Honoring Excellence Award |
| | Parent Tested Parent Approved 2012 Award |
Riley LOVES reading the book, and seeing his picture on the title page, he knows the book is all about him.
We also had the opportunity to review the Twilight Sea Turtle which is a great nightlight for kids.
This friendly turtle will be your child's best nighttime friend! It transforms any room into a starry night sky.
From his plastic shell, Twilight projects a magical constellation of stars onto the bedroom ceiling helping to ease children's fear of the dark, and soothing your child to sleep with a variety of colors shown to relieve stress and anxiety.
Educational! Twilight illuminates five endangered animals, and comes with a Twilight Storybook and Star Guide.
Three relaxing colors: Ocean Blue, Emerald Green and Aquamarine
Battery-saving auto shut-off and 45 minute sleep timer, 3 AAA batteries included
Adoption Certificate
The National Parenting Center Seal of Approval
iParenting Award Winner
Baby Talk Editor's Choice
Ideal for children 2 and older
I have actually had a really hard time with Xander getting him to sleep in his own bed (at 8!) but with this, he is more than happy..it turns out he is just really afraid of the dark.
The Twilight Sea Turtle is great because it has a timer. I set the timer for 45 minutes, and every time I check on Xander after it's gone off, he is asleep.
Bkeepsakes.com offers so many different personalized products like these Day You Were Born prints.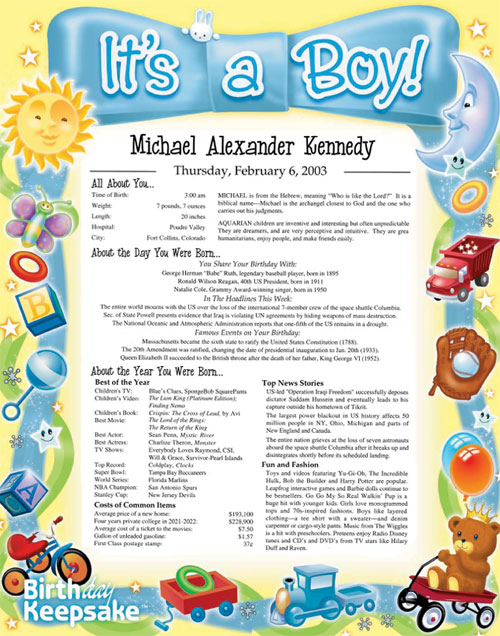 Unframed Keepsakes:
Framed Keepsakes:
8x10 unframed Keepsake
$9.99 each
8x10 framed Keepsake
$27.99 each
11x14 or 12x12 unframed Keepsake
$12.99 each
11x14 framed Keepsake
$32.99 each
These are available in assorted boy and girl colors and themes, they make great new baby gifts!
One reader is going to win a $25 BKeepsakes.com Gift Card!
Please enter using the rafflecopter form below. Good Luck!
Disclosure: I received one or more of the products mentioned in this post to help facilitate my review. All opinions are mine and I was not influenced in any way.
a Rafflecopter giveaway