I have blogged about my husband's diabetes before.
He keeps his sugar levels under control without medication, and he is doing very well.
He uses a plant that we grow in our backyard that naturally lowers blood sugar.
One major change he made though, besides cutting out all sugar, was the decision to try and eat more all natural foods.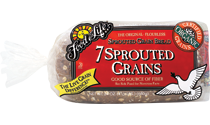 My husband used to eat oatmeal for breakfast, now he can't because the carb count is too high.
So he has switched to this cereal and loves it.
Every ingredient is organic.
Organic Sprouted Wheat, Malted Barley, Organic Flax Seeds, Organic Sprouted Barley, Organic Sprouted Millet, Organic Sprouted Lentils, Organic Sprouted Soybeans, Organic Sprouted Spelt, Filtered Water, Sea Salt.
Food For Life makes many organic foods including:
Breads
Buns
Cereals
Croutons
English Muffins
Pasta
Pocket Breads
Tortillas
Vegan Meats
Waffles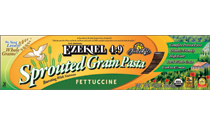 Also, many of their products are diet specific such as,
Diabetic Friendly
Gluten Free
High Fiber
Sprouted Grains
Vegan
Yeast Free
You can check out all their products here.