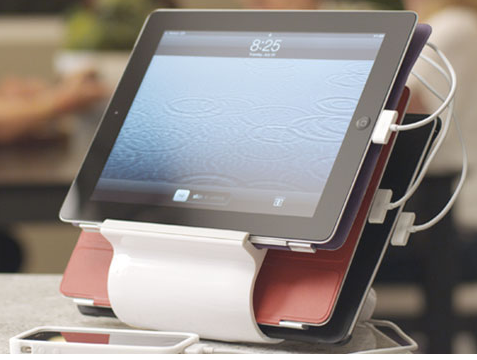 If you're like me, you have several devices that need charging.
DH is always looking for a place to set his Nook where it won't get dropped while it's being charged.
My iPad cord hangs off the table..just waiting for the day when a cat/kid will get caught in it and the whole thing will come crashing down.
That's why I was THRILLED to receive the Kanex Sydnee Recharging Station.
Not only does it charge apple products, it pretty much works with anything that can fit, and everything is in the same place!

My son's iPad is always in the same spot as mine now, which is great, because I am so over hearing "Mom! where's my ipad!"
What I love about this too, is that even with the cases on, they fit great in the slots.
The Sydnee can charge up to 4 devices simultaneously.
See those 4 ports? Each one gives you 2.1 amps or charging power, which means FAST charge!
One of my favorite things about this Recharging Station is no more tangled cords! There is a place to attach them to the station so that they are out of the way.
For $149 your Sydnee will come with the Charging Station, 3 usb 30 pin charging cables, and instruction manual AND a full 1 year parts and labor warranty!
Any USB charging device will work with the Sydnee, including but not limited to, Kindle, Nook, Smart Phones, iPod and iPad.

One of my fabulous readers is going to win a Sydnee of their very own!
Please enter using the Rafflecopter form below.
Giveaway is open to US residents and expires 12/1/12
a Rafflecopter giveaway